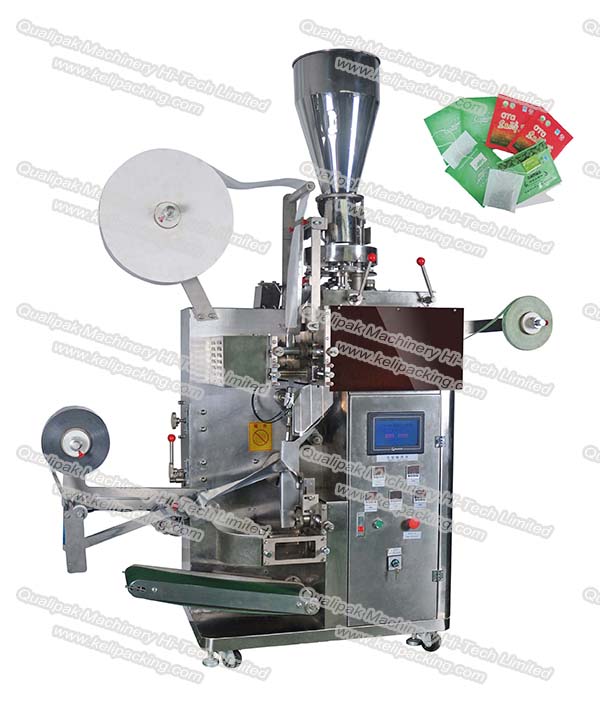 The packaging bags with thread .all the works Of bagmaking ,measuring filling ,sealing ,cutting Can be done automatically.It is suitable for automatically packaging of steeping products such as framgental tea ,medicinal tea,coffee etc.


QP-180 Automatic tea-bag inner and outer bag packing machine
APPLICATIONS:
The machine is suitable for the dual bag packing of small grain-like materials, such as tea leafs, medicinal tea and healthy teas.
FEATURES:
AUTOMATIC TEA-BAG PACKING MACHINE WITH THREAD,TAG AND ENVELOPE is a hot-sealed, automatic and multifunction packing equipment ,The main characteristic of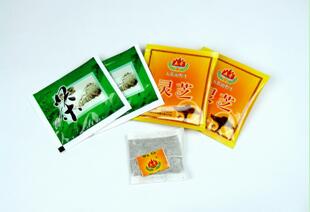 this equipment is it can molding in one time to protect the material from the direct contact with workers' hands and improve the efficiency. The inner bag is filter paper with thread and label automatically is available. The outer bag is composite paper (including various kinds of composite membrane hot sealable such as paper/plastic, plastic/plastic, plastic/aluminum/plastic, paper/aluminum/plastic.)The most advantage is, the capacity, the inner bag and outer bag can be adjuster flexibly, and the size of the inner and outer bag also can be adjuster according to the requirement of the customer to get the perfect effect.
TECHNICAL DATA:
Features: the inner bag with thread and tag automatically
Filling Range: 3-15(ml)
Capacity: 30-45(bag/min)
Inner bag size: W: 50-80(mm) L: 50-70(mm)
Outer bag size: W: 70-90(mm) L: 80-120(mm)
Tag size: W: 25mm L: 18-22mm
Thread length :155mm
Total power: 220V/50HZ /3.5KW
Dimension(L*W*H) :900*610*1800(mm)
Net weight: 500KG Gross weight: 550KG