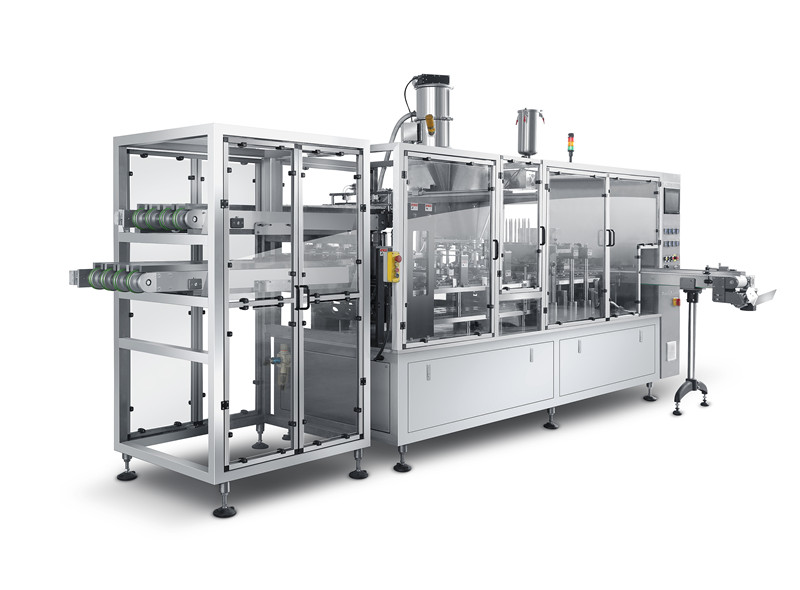 Servo screw filling, filling accuracy about 1.5%,you can adjust filling quantity by setting parameters in touch screen . No cup, no filling; the machine will stop and alarm automatically while screw getting stuck. Automatic detection of coffee hopper : vacuum feeder will open automatically if coffee is less. One click clear : clear the remaining coffee in the hopper. Coffee store cylinder with nitrogen filled joint to fill nitrogen.


QP-CR Inline capsule machine
Feature:
1.Automatically complete packaging process,small occupation space,and easy to operate.
2.PLC control system,full display and real-time monitoring.
3.Automatically load lid and capsule,heat seal,cups out put.
4.Vacuum feeding coffee powder or Screw feeding powder, it is optional.
5.Servo motor control auger filling powder,high filling accuracy ,±0.1g.
6.Liquid injection(flavor and other), optional function.
7.Press powder and clean cup margin dust and remainder powder.
8.Nitrogen protection system,filling nitrogen line from capsule loading to heat seal,besides hopper has nitrogen input.95%-98% nitrogen content in the cup.
9.No cups,no filling.
10.Automatically detect lids quantity,less than setting parameters,alarm and arise tips.
11.Machine adopt 304 stainless steel structure material,organic glass door cover,when open door,machine will stop,which
make sure workers safety.
12.Automatically count products output quantity.
13.Failures arise,Tips in the touch screen arise.
14.UV lamp sterilization,to make sure food safety.(optional)
2. Technical parameters
Equipment main technical parameters
Technical Parameters

Parameters

Max padding degree(bullet cup)

8-15g

Packaging speed

15-30capsule/min

Coffee filling accuracy

±1%

Laying-off station

1

Net weight of the machine

450Kg

Machine case size

1003mm(length)X1023mm(width)X1980mm(height)

Note:This machine can only packaging a certain specification capsule , if you change the capsule's size, then need to change the mold plate.
Devices work requirement parameters
Technical item

Parameters

Temperature

5~35ºC

Relative humidity

≤85%

Power supply

/gross power

Single phase

220V/380v 50/60HZ/1.2KW

Airsupply pressure

0.8Mpa

Air consumption

≥0.6Mpa/0.1m²

Note: this requirement is the best working environment
Technical requirements
| | |
| --- | --- |
| Item number | Technical requirements |
| 1 | The machine steel frame; organic glass; turntable mold structure; fixed castor and mobile pulley. |
| 2 | Adopt interactive air claw to feed cup,stable and accurate. |
| 3 | Servo screw filling, filling accuracy about 1.5%,you can adjust filling quantity by setting parameters in touch screen . No cup, no filling; the machine will stop and alarm automatically while screw getting stuck. Automatic detection of coffee hopper : vacuum feeder will open automatically if coffee is less. One click clear : clear the remaining coffee in the hopper. Coffee store cylinder with nitrogen filled joint to fill nitrogen. |
| 4 | Automatic vacuum suck lid, no capsule no lidsuction, if suck lid process is in trouble, machine will stop automatically. |
| 5 | Heat sealing mechanism, OMRON temperature controller to adjust temperature. |
| 6 | Automatic mechanical hands grasp the cups to the products box. |